Join Safety Sleuth and work with your students as they look at our surroundings, think about what is safe or unsafe, make safe choices and share with others how to do the same. Just like any smart sleuth, your students will want to bring their curiosity and pay attention to detail. They can make a difference at home and school.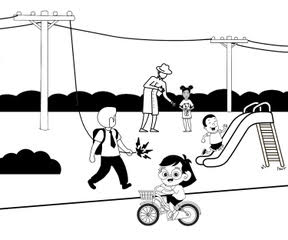 LOOK – Discover many ways they can "see the situation" and determine what is safe and unsafe.
THINK – Learn to use and assess situations and act responsibly and safely in their homes and community. Learn to communicate clearly and in detail about situations that may feel unsafe.
DO – Take responsibility by making informed choices about electrical safety and other areas where they may be unsafe. Take positive actions to be careful.
SHARE – Learn how to explain to others what happened, where it happened or inform and inspire others to be careful and why.
Safety Sleuth has been designed for grades 1-4. One teacher guide, student guide and corresponding student project is developed for grades 1 – 2, and another set of guides and student project requirements specifically for grades 3 – 4.
A Teacher Guides provided along with the Student Guides. Lessons are cross-curricular and are aligned to both the Science and Engineering Practices from the Next Generation Science Standards (NGSS), the Ten Themes of Social Studies from the National Council for Social Studies (NCSS), the New York State English and Language Arts (ELA) standards and the Core SEL Competencies from the Collaborative for Social, Academic and Social Learning (CASEL).
All of our resources are available for use in-class and virtual or hybrid environments.
Teachers will choose 5 projects from their class to submit to PSEG Long Island for a chance to be exhibited at an island wide digital exhibition, as well as, at selected PSEG Long Island Customer Service Centers. The culminating project will be the student's creation of an expression of their understanding of what the student has learned. The options for a submission include a poster or story board, a story, a video or digital entry, or a cartoon/comic (based on grade level). The project submission deadline is January 20, 2023.